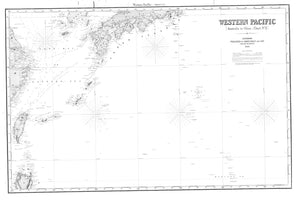 We take great care to ensure that the best materials, packaging, and service are part of every order.
OUR PRINTING PROCESS (printers, inks & paper):
Our nautical charts and maps are printed on high-end professional equipment using art-quality archival inks and paper. 
The paper used for 18"x18" prints and larger is an acid-free 32lb bond with a smooth matte, non-glare finish. Prints 13"x19" and smaller are printed on sturdy acid-free card stock with a matte finish.
The inks used in the process are professional grade to provide rich and authentic color and are acid-free to ensure that the prints will not fade over time.
The size of each print refers to the actual size of the paper on which they are printed, leaving a .25" white border around the image. The prints fit nicely inside standard-sized frames of the same dimension. 
DIGITAL RESTORATION:
All maps are meticulously digitally restored to provide you with a clean, clear, and beautiful map that honors its period of origin. 
In this process, imperfections are removed. (Including creases, smudges, tears, discoloration caused by age, non-original stamps, etc.) The result is a gorgeous map reproduction true to its historical vintage.
Custom Requests
Prints:
Maps can be personal and focus on the meaningful places in your life. We can customize these to fit your specific need:
Size: We can print maps in just about any size, from postcard to oversized statement pieces. If you have a size request that is not posted here let us know.
Color: We can modify coloration of most maps. We can match colors of maps to make a complementary set, or can colorize a map to make it unique
Zoom-in: If there is a particular harbor or island that you would like emphasized, we can create a custom map by zooming in on your area. 
Personalization: We personalize maps to add names, dates or text of your choice - perfect for weddings, anniversaries, yacht club cruises, housewarming, etc. 
Material: If you would like to have your map printed on another material such as canvas, Tyvek, or glossy paper please contact us.
Barware & Serveware:
Any area from our map collection can be designed on our barware or serveware. If you do not see your location in our barware and /or serveware inventory, please ask - we may have the image in our map collection or can search for it to create your custom design.
Packaging and Shipping
All prints are well packaged in sturdy tubes or envelopes to offer guaranteed protection.
Prints sized 13"x19" or smaller ship flat inside a cardboard shipping envelope with a cardboard insert for added reinforcement. Each print is sealed inside a clear poly sleeve for protection and presentation.
Prints sized 18"x24" or larger ship loosely rolled in a shipping tube. Prints are inserted in a plastic sleeve to add protection during shipping and in removing the print.
Barware and serveware are packaged in durable cardboard boxes and well-padded with recycled packing paper. These packing methods offer guaranteed protection.
Your order will arrive safely or we will replace it.
Additional Shipping Charges for International or Expedited Service:
This should be purchased only in addition to another product from this store and is for non-standard shipping as requested by the customer. Purchase Additional Shipping here!

Please contact us with any questions!
Customer Service
HullSpeed Designs provides excellent quality and outstanding customer service at every step of the process. We are available to answer questions before you order and you will be notified when the package ships and can track it to your doorstep.
If you have any questions when your order arrives please contact us. We strive to make sure that every customer is happy with their order – message us and we will communicate with you quickly and directly.